Wherever the party may be, we're ready to fire it up!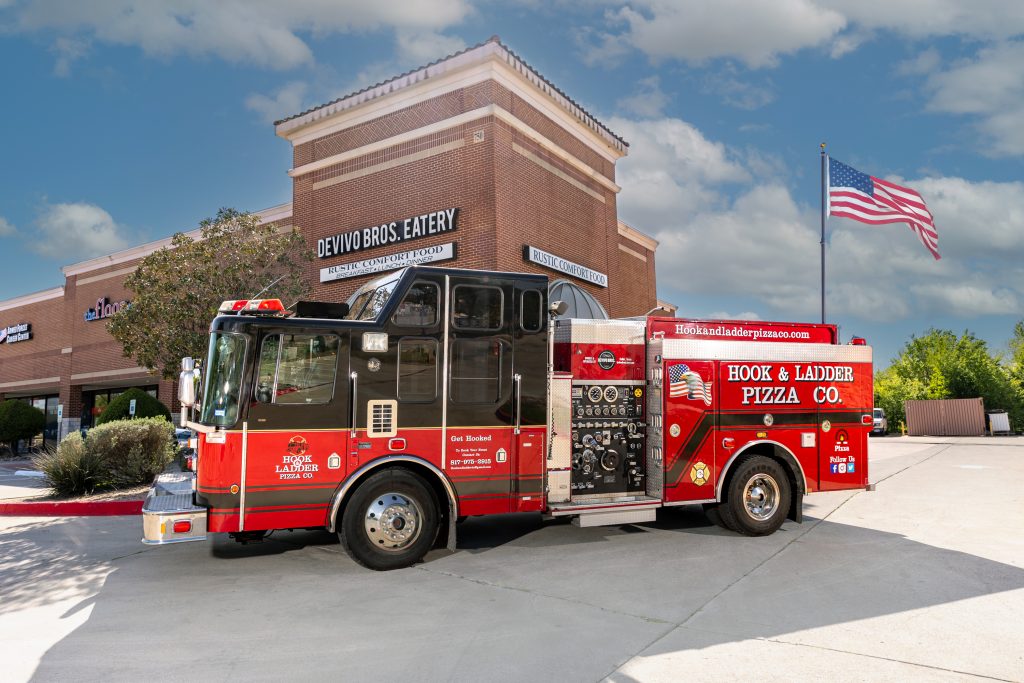 Celebrating 10 Years


New Truck, Same Great Pizza!
Hook and Ladder Pizza Co. is an award-winning wood-fired pizza truckgreat for family, corporate and community events of all sizes.
Tailgating • Birthday Parties • Corporate Events
Reunions • Graduations • Festivals • Fundraisers
We serve in support of the families of the brave men and women have made the ultimate sacrifice.
Public Events
For public vending events we request a $1,000 minimum food sales guarantee for a 2-hour event.  If we sell $1,001, we are owed nothing; if we sell under $1,000, we are owed the difference between what we sell and $1,000. For instance, if total food sales are $800, $200 would be owed. In this way we ensure our food costs are covered. If an event is over 2 hours, we add an additional $100-$150 per hour to the minimum.
**Travel Fees apply for events over 30 miles distance from Keller, TX
Pizzas are sold by the pie and range from $14-$18 depending on the toppings.
Private Events
Do you have a private event you'd love us to cater? 
Our most popular package is The Lieutenant served buffet style which is $18 per guest with a $1,000 food sales minimum (plus tax). Dates are on a first come basis and confirmed with a 50% deposit and signed contract.
We will set up a buffet of pizza. Our pies are 12inch shareable pizzas. Your guests will be able to mix and match slices. *Options determined on package.
Other serving styles offered upon request.
**Travel Fees apply for events over 30 miles distance from our location in Keller, TX at $13 per mile per overage.
"BOOK FOR YOUR EVENT! I booked for my 10 year high school reunion and people RAVED about how good the pizza was. Event coordinating was effortless with them. Lynn was so understanding, easy to communicate with, and worked with us to fit our needs for our event. The two men working our event were professional and personable. The fire truck is different and fun – kids LOVED looking at the truck, and the adults LOVED the pizza! I have nothing but good things to say about Hook and Ladder! Would book them again in the future!" – Paige V.